Aerodynamics keeping white trucks whiter
Dirt, oils and residual chemicals from the road can affect what should be a truck's pristine appearance and potentially its performance. RPC Promens, in partnership with INEOS Styrolution, has helped Daimler Actros trucks overcome this challenge with its ASA grade Luran® S to create aerodynamic cabin corner parts to guide air round cabin corners and reduce dirt build-up.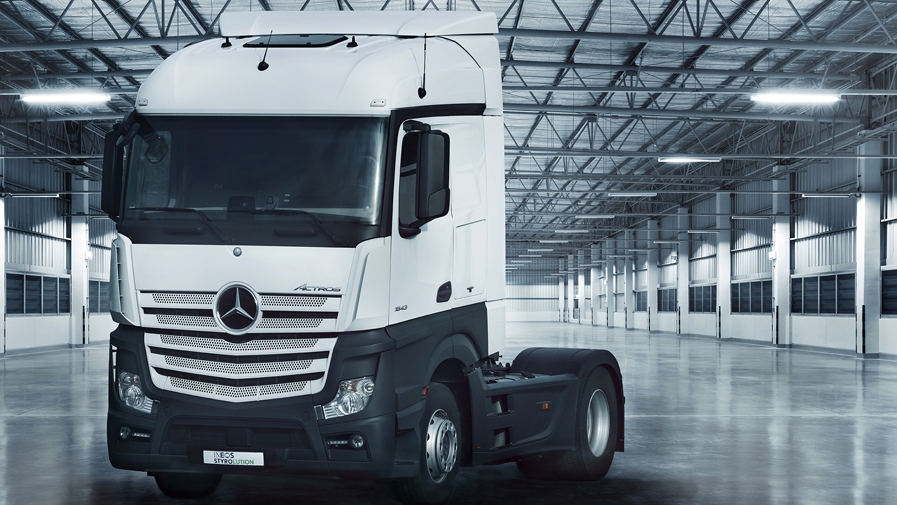 General dirt, debris, residual oils and lubricants and even de-icing chemicals from the road can attach to truck doors and side panels with undesirable results ranging from a poor appearance impacting negatively on the brand, dirt being pushed further into components - potentially interfering with proper operation and difficulty in drivers and technicians noticing faults such as cracks and chaffing lines. Problems are much harder to spot if components, parts, systems and sub-systems are covered in a layer of dirt or grit. Not to mention that a filthy truck can often be a red flag for inspectors.
UK-based automotive parts manufacturer, RPC Promens, in association with INEOS Styrolution, has developed a unique solution for their customer, Daimler Actros. Leveraging Luran S grade 797S SPF30 WT010027, an acrylonitrile styrene acrylate (ASA), they have created highly aerodynamic cabin corner parts for Daimler's truck fleet, guiding air around the cabin corners and significantly reducing the collection of dirt on doors and side panels.
The Luran S grade is known for its excellent surface quality and high impact strength, including enhanced color fastness and delivering superior long-term performance when exposed to UV irradiation and heat. As particular emphasis was placed on harmonizing exactly with Daimler's signature "Arctic White" color, INEOS Styrolution worked closely with RPC Promens to not only ensure a perfect match, but the required color stability.
In addition to optimized aesthetics, as a lightweight solution, the panels contribute to overall fuel economy. Additionally, as they do not require painting, fewer steps in the manufacturing process mean they are more environmentally friendly, and result in a reduction of both production and maintenance costs.