Luran® S sets the worldwide standard for Automotive front grills
INEOS Styrolution's materials have been used to create cars' front grills for quite a while. Especially Luran® S offers automotive companies significant flexibility to combine design, durability and lightweight with cost-effectiveness and aesthetics.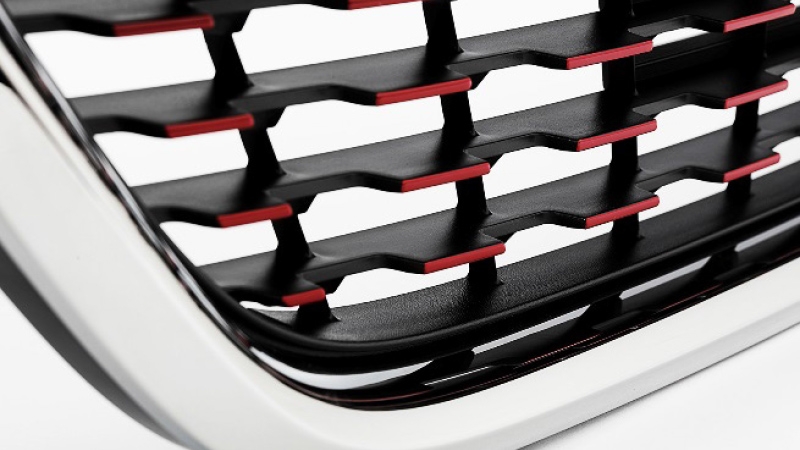 Peugeot selects Luran S for the new 208 model front grill
For the seventh generation of the Peugeot 208, the leading French manufacturer wanted to use lightweight, cost-efficient plastics while improving on aesthetics, durability and performance. So Peugeot turned to INEOS Styrolution for the facelift of its 208 model. Luran S 778T, an acrylonitrile styrene acrylate (ASA), was identified respectively by Faurecia and Plastivaloire as the material of choice for the front grill. Complementing its excellent adhesive properties, the polymer is an ideal substrate for hot stamp foils over intricate structures: Luran S 778T also offers a stable surface for precision foil application and adhesion. This made it possible to employ the use of a hot stamp foil produced by the decorative foil manufacturer KURZ. Due to the high surface quality, as well as the major advancements in color fastness and optical appearance for pre-colored unpainted exterior applications, this material addresses both the aesthetic and functional requirements of Peugeot.
---
"Whether for front grilles, logos or rearview mirrors, automotive exterior applications based on styrenics solutions are growing. It is not just superior performance and physical durability that make styrenics attractive for manufacturers all along the automotive value chain. They also address two of the attributes most desirable to automotive OEMs and suppliers: appearance and low weight. INEOS Styrolution delivers innovation and professional support with an experienced, personal touch. We are honored to continue the successful partnership with Peugeot through the development of this automotive solution."
Christophe Ginss, Sales Director Automotive EMEA with global coordination role, INEOS Styrolution
---
Seoyon E-Hwa uses Luran S for the front grill of Hyundai's new Kia K5
Hyundai motor group tasked Seoyon E-Hwa to build a front grill for the new K5 (JFC model). The grill design is unique for Hyundai motor group, in that it possesses an intricate diamond-like appearance. Working in collaborative innovation, INEOS Styrolution helped Seoyon E-Hwa identify the right styrenic polymer that would offer the aesthetic and performance properties Hyundai motor group was looking for as the structural material of the grill and substrate for the hot stamp foil from KURZ.
The distinctive design of Hyundai's front grill is made possible by the strong dimensional stability and premium, high-gloss appearance of Luran S 778T. The polymer's moisture resistance further helps boost the grill's performance in adverse weather conditions, such as rain and snow. Further benefits of Luran S 778T for car manufacturers are the ability to eliminate the need for paint by offering a luxurious, high-gloss finish for car exterior trims and housings, while a UV stabilization package ensures a superior level of gloss and color retention even after years of sun and weather exposure.
---
"As a supplier to one of Asia's most iconic automotive iconic brands, it is imperative we have material suppliers we can partner with to provide the right solutions for our customers. Seoyon E-Hwa has that kind of partnership with INEOS Styrolution."
Engineering Development Team, Seoyon E-Hwa
---
Automotive OEMs in Brazil also turn to Luran S as material of choice for front grills
INEOS Styrolution has been chosen as exclusive supplier of ASA material by several leading solution providers in the automotive industry in Brazil to develop new auto parts taking advantage of the innovative hot stamping technology. One leading global car manufacturer is pioneering the technology in Brazil and two more tiers have started using the same technology working on projects with other major automotive brands.
For several years, INEOS Styrolution has been closely aligning with the development departments of OEMs resulting in various new solutions and innovations of production processes. The hot stamping technology is just one example of such an innovation. In cooperation with INEOS Styrolution, it was spearheaded by several premium brand car manufacturers in Europe and in Asia and attracted the attention of OEMs in Brazil since it was introduced during Feiplastic 2015 in São Paulo.
---
"Automotive industry customers demand styrenic copolymers that offer better project flexibility, improved performance and surface finish excellence. Special requests like a robust and sporty appearance, taking into account outdoor enthusiasts and transport needs, add on to the demands for the used materials. These factors increase the need for a high performance material, which makes Luran S the ideal polymer. This pioneer application of a local customer is an excellent opportunity for INEOS Styrolution to showcase our products and expertise in styrenics for high-end automotive applications."
Paulo Motta, South America Business Director, INEOS Styrolution
---
(2017)